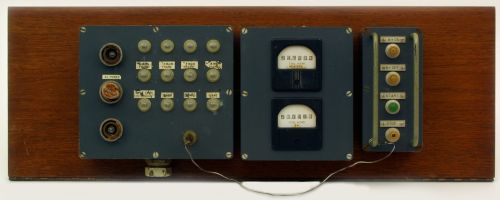 Title
JOHNNIAC Elapsed Hour Meter Panel
Description
Donation via Mort Bernstein. Many early computers used elpased-hour meters as a means of planning for maintenance and for billing purposes. This meter is the original Johnniac elapsed-hour meter and shows a slightly-larger "heater voltage" reading than "B+" reading, reflecting the common practice with vacuum tube computers of leaving the tube filaments powered on all the time. This practice, originally discovered by the ENIAC deisgners (1946), caught on with other machines and resulted in greatly extended machine life. This item is a plaque- mounted control panel with two elapsed hour indicators, one for B+ (51, 349 hours) , the other for heater (54, 720 hours) voltages. It indicated the total running time of the Johnniac at time of decommissioning.
Date
1953 ca.
Manufacturer
RAND Corporation
Place Manufactured
Santa Monica, CA, US
Identifying Numbers
| | |
| --- | --- |
| Model number | Johnniac |
| Serial number | 1 |
Dimensions
11 x 30 1/2 x 11 (HWD) in.
Category
I/O: other
Subject
JOHNNIAC
Credit
Gift of the Rand Corporation