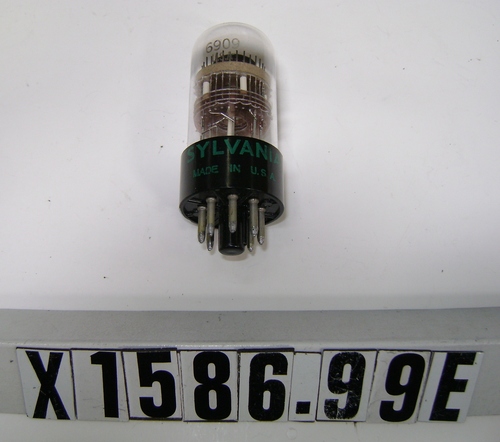 Title
Vacuum tube type 6909
Manufacturer
Sylvania Electric Products, Inc.
Place Manufactured
U.S.
Identifying Numbers
Model number
6909
Other number
635
Printed on base
Dimensions
overall: 1 1/4 in x 1 1/4 in x 3 1/8 in
Description
Dekatrons formed the first generation of integral vacuum tube counter tubes. The basic topology was invented by Ericsson for telecom applications (rotary dial sensing, for e.g.) and soon various tube manufacturers offered similar units. Typical applications: test equipment (frequency counters, digital voltmeters), and in computer systems.
Category
Component: vacuum tube
Credit
Gift of Eric Barbour