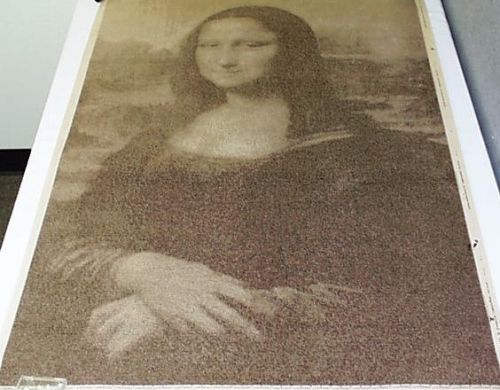 Title
Mona by the Numbers
Description
This all-digital representation of the Mona Lisa was created in 1964 using a Control Data 3200 computer. It took some 14 hours to print on a diazo printing machine and was a popular wall hanging in computer centers, as were portraits of Snoopy, and somewhat more revealing portraits of women in the male-dominated world of 1960s computing. A photocopy of the fact sheet (X1642.99B) appears in the acquisition file.
Date
1965
Designer
Peterson, H. Phillip
Manufacturer
California Computer Products, Inc. (CalComp)
Place Manufactured
U.S.
Identifying Numbers
| | | |
| --- | --- | --- |
| Deprecated CHM identification number | 102704072 | Object erroneously cataloged twice. |
Dimensions
overall: 129 cm x 80 cm
Category
Poster
Credit
Gift of Vicki Cooper