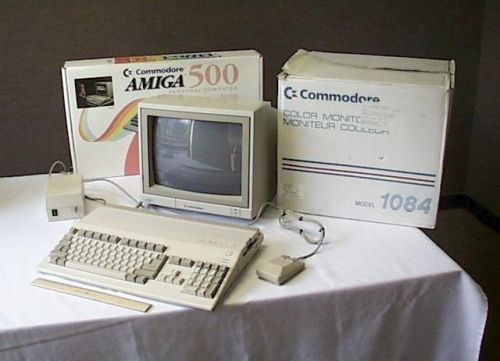 Description
This item consists of a CPU unit with integral keyboard and 3 1/4-inch floppy disk drive.. The word "AMIGA" is molded into the top of the object, and there is a recessed adhesive label with the Commodore "C-and-flag" logo on the top of the object.. There is a bay with a rectangular opening measuring approximately 3 5/8 x 7 inches and with a detachable lid. Inside the bay is an unmarked module in the shape of a right-triangular prism. It is almost entirely enclosed in bright sheet metal and is attached to the main part of the computer through a card-edge connector having two rows of sockets with 28 sockets in each row, on the module.. There is a card-edge connector under a detachable cover on the left-hand side of the object.
Date
ca. 1988
Manufacturer
Commodore
Place Manufactured
U.S.
Identifying Numbers
Model number
A500
Other number
see note
5vDC@4.5A 12vDC@1A -12@.1A power requirements printed on serial number label
Serial number
CA1062 620
Dimensions
2 1/2 x 18 1/2 x 13 in.
Category
Digital computer/personal computer/desktop