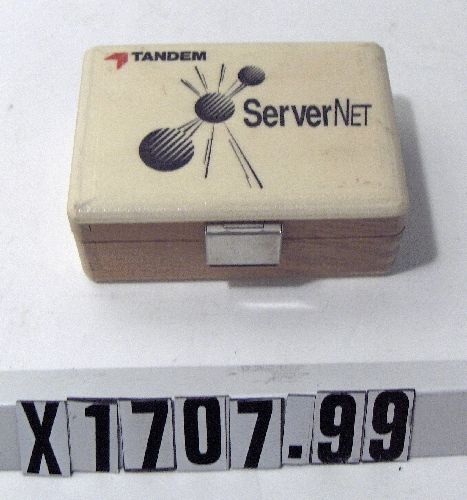 Title
ServerNet Marketing Model
Description
The contents of the box has been used with customers and partners to demonstrate the ServerNet role in a scalable computing architecture. The architecture is found in the Tandem Himalaya and Integrity computing systems and more recently in more industry standard work such as Virtual Interface (www.viarch.org) and Future IO (www.futureio.org) . The ServerNet role in the architecture is to provide the connections between each processor and IO device. That role was generically defined for the industry as a System Area Network. The "lego set" in the box consists of spheres, pipes and other shapes. When assembled, the spheres and pipes represent ServerNet and the other shapes.
Date
1999
Manufacturer
Tandem / Compaq
Place Manufactured
U.S.
Dimensions
1 5/8 x 4 1/4 x 3 3/16 (HWD)
Category
Ephemera/other
Credit
Gift of Tandem Computers, Inc.