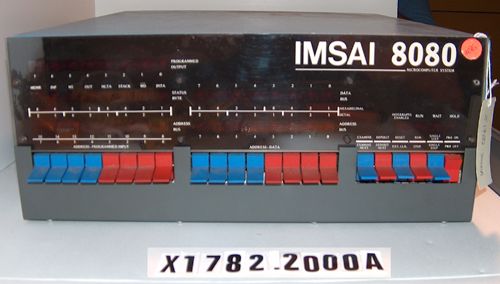 Catalog Number
X1782.2000A
Description
Object was discovered in the warehouse with accession number and barcode already assigned and attached. Record entered 11/16/2001. -- JAC Metal cover in not attached, only placed on object.
Date
1976 (?)
Manufacturer
IMS Associates
Place Manufactured
San Leandro, CA USA
Identifying Numbers
Model number
IMSAI 8080
Other number
see note
"Tag on back reads: "CAVRO Scientific Instruments Property Tag Ser: 2133"
Serial number
002484
Dimensions
7 x 17 1/4 x 19 5/8 (HWD) in.
Category
Digital computer/personal computer/desktop