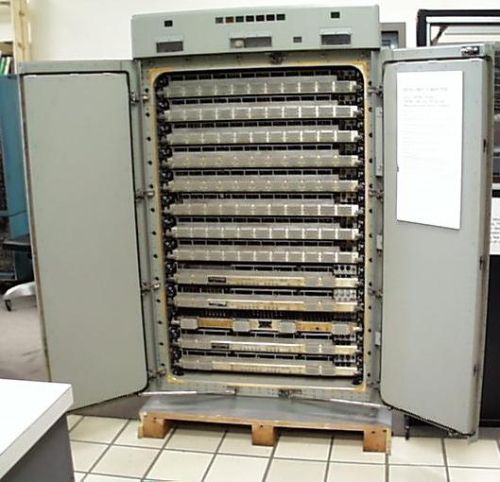 Title
NTDS CP-642/USQ-20(V)
Description
Markings on it read: Navy Department Bureau of Ships--Cabinet- Electrical Equipment Contr.
Sign attached to right inside door (removed 11/9/2010) read:

NTDS UNIT COMPUTER
UNIVAC 1206 and AN/USQ-20
Remington-Rand Univac Division

Word length: 30 bits

Speed: 9.6 microseconds add time

Primary memory: 32,768 words core memory (3.6 microseconds access time)

Secondary memory: Magnetic drums and magnetic tapes

Instruction set: 62 30-bit, single-address instructions

Architecture: Parallel, binary, fixed-point arithmetic. 7 index registers, 1 accumlator register, 1 free register

Technology: 10,702 transistors

Input and Output: Punched cards, paper tape, CRT

Price: $500,000

Size: 58.6 cubic feet, 2,320 pounds, 2.5kW

Software: CS-1 compiler

Development history: Developed under contract for the U.S. Navy Tactical Data System (NTDS) by the Saint Paul division of Remington-Rand Univac. Seymour Cray was the primary logic and circuit designer.

Production History: The first unts were delivered in 1958. Later commercially available as the UNIVAC 1206.

Use: Real-time tactical analysis, display and control of weapons.
Date
1962
Manufacturer
Sperry Univac
Place Manufactured
U.S.
Identifying Numbers
| | |
| --- | --- |
| Model number | NTDS CP-642/USQ-20 (V) |
| Serial number | 1 |
Dimensions
64 x 37 x 36
Category
Fixed-application digital computer/other
Subject
U.S. Navy; Cray, Seymour
Credit
Gift of Department of the Navy, Naval Sea Systems Command