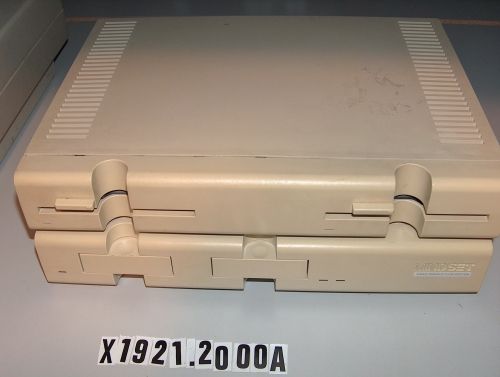 Title
Mindset Video Production System CPU unit
Catalog Number
X1921.2000A
Description
Dimensions are of the CPU unit. The dimensions of the box are 8 3/8 x 20 3/4 x 17 5/8 in.. Object consists of video-production system CPU unit and original cardboard box, a separate plug-in module, removable data cable with DB-37-S connector on each ends, two loose "VTI" 28-pin dual in-line package chips (one labeled 252004-005 and one labeled 252004-006), and two small, loose flathead machine screws.. Plug-in module is 1 x 4 1/8 x 3 3/8 in. and has connectors on opposite long sides; a DB-37-S on one side and a double-sided printed circuit board edge with 18 copper tabs on each side.
Date
1984
Manufacturer
Mindset Corporation
Place Manufactured
U.S.
Identifying Numbers
Model number
M-1001
Other number
100134-001
100134-001 printed on manufacturer's label on bottom of unit
Other number
84J7
84J7 printed near "UL" trademark on manufacturer's label on bottom of unit
Serial number
011287
Dimensions
5 3/4 x 16 x 12 3/4 in.
Category
Digital computer/personal computer/desktop
Credit
Gift of Molly Hogan