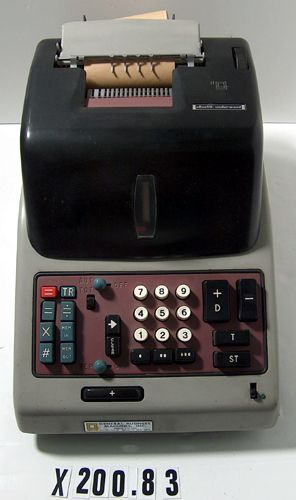 Title
Automatic printing calculator
Description
Upper section encasing the mechanisms is black- lower section with keyboard is greyish tan. Has a plate on front which reads General Business Machines Corporation.
Date
ca. 1960
Manufacturer
Olivetti Underwood, Inc.
Place Manufactured
Italy
Dimensions
10 1/2 x 10 1/2 x 16 3/4 in.
Category
Calculator/electronic
Curator Notes
Olivetti engineer Natale Capellaro and industrial designer Marcello Nizzoli created a number of the company's calculators. The Divisumma models offered automatic calculation with all four basic operations; the Divisumma 14 was an early example of a printing calculator with automatic division. The later Divisumma 24 was a great commercial success for Olivetti.
Credit
Gift of Peter Stalker