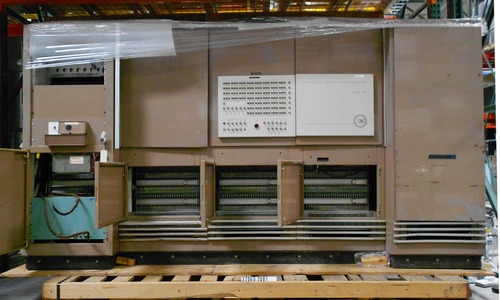 Title
DDP-24 (Digital Data Processor 24)
Catalog Number
X2060.2001
Date
1963
Manufacturer
Computer Control Company, Inc. (CCC)
Place Manufactured
U.S.
Identifying Numbers
Model number
DDP-24
Other number
00000-07777
Dymo label inside door front lower left
Other number
016173
Florida Institute of Technology property tag front upper right
Dimensions
overall: 62 in x 114 in x 26 in
Description
Object is a large metal cabinet in five sections. All sections contain racks with many small circuit modules. The center section has a control panel with a big red power button, toggle switches and push-buttons for operational controls, and numerous pilot lights to read out register contents. A Dymo label on this panel reads "GREEN MONSTER" and a Dymo label above it reads "COMPUTER B". A number of heavy cables are draped over the top of the unit, on foam sheets.
Category
Digital Computer: minicomputer