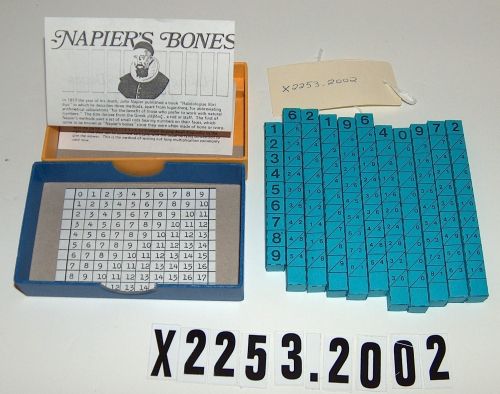 Title
Replica of "Napier's Bones" multiplication device
Catalog Number
X2253.2002
Description
Paper mechanical calculator --Given to Gordon Bell by Peter Roubos (who gave a copy to everyone who purchased a copy of the Schickard calculating machine he made - mrw). Size is dimensions of the box

A set of Napier's bones printed or photocopied on blue paper in a yellow box.
A second set of these same bones (on loan from Mike Williams) is currently in visible storage
Object consists of a cardboard box, instruction sheet and eleven "bones"
Manufacturer
Peter Roubos
Place Manufactured
Netherlands
Dimensions
1 x 4 3/4 x 2 3/4 in
Category
Calculator/mechanical