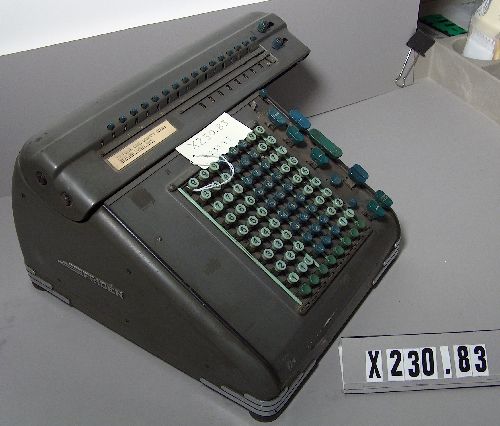 Title
Friden electrical calculator
Date
ca 1950
Manufacturer
Friden Calculating Machine Co., Inc.
Place Manufactured
U.S.
Dimensions
8 1/2 x 15 3/4 x 13 3/4 in.
Description
This is a full-keyboard, 8-column calculating machine.. The serial number is stamped on a plate recessed behind a small "window" cut in the bottom plate of the object, near the front edge.. The back panel has a chrome, "three-line" decorative piece applied from top to bottom, with the name, "Friden," crossing at right angles about one-half of the way down the back and a chrome ring surrounding a two-prong power-cord socket at the bottom.. A yellowing-white label has been attached with clear tape near the lower-left corner of the carriage, with the typewritten legend, "If lower case doesn't clear tighten lower knob."
Category
Calculator: electromechanical