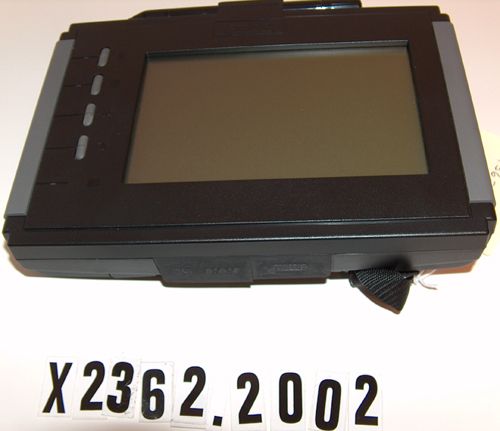 Title
PalmPad Model 2352 hand-held personal computer
Catalog Number
X2362.2002A
Manufacturer
GRiD Systems Corporation
Place Manufactured
U.S.
Identifying Numbers
| | |
| --- | --- |
| Model number | 2352 |
| Serial number | GPC01250 |
Dimensions
2 x 9 x 6 3/4 in.
Description
Object consists of the computer, an untethered stylus, a removable, flexible, rubber-clad antenna approximately 2 inches long, with a screw-on BNC-type coaxial-pin connector. Two battery packs, model 32175, were labeled, bagged and stored separately from object. The batteries were saved because they are specially designed for this object.. The Model 32175 battery packs are approximately 3/4 x 4 1/8 x 3 inches. They have six flat-pad contacts on one face and an 3/8-inch diameter, 8-socket, polarized connector on one end.. The object is labeled as containing a radio, Model 8493043. Under that label is the label, "DOC/MDC - 1602 K1036.". There is a screw-on BNC coaxial-socket connector on the body of the computer. The object has a miniature DB-25-S connector labeled with a serial-port graphic and a power-supply graphic, and there is a cable with a corresponding miniature DB-25-P connector on one end and a Y-split with two connectors at the other end. One of the Y-end connectors is a regular-size DB-9-P and the other is a 3/8-inch diameter, round, connector with 8 pins in a polarized pattern. The cable has a white label with the number 870-91220, REV. E, 9231. The object has a miniature DB-15-S connector labeled with a keyboard graphic.
Category
Networking/telephone/smartphone
Credit
Gift of David Belknap