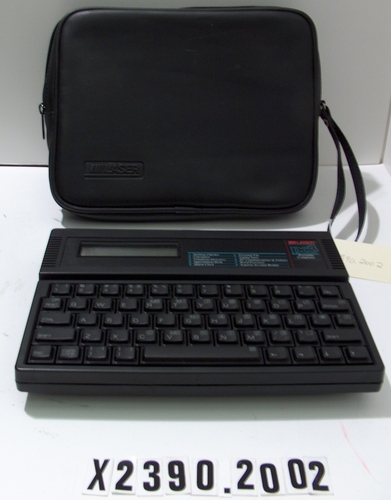 Title
Laser pc3 personal computer
Catalog Number
X2390.2002
Description
Object consists of the computer and a zippered, soft, plastic carrying case with wrist strap.. Dimensions are of computer.. There is a compartment under a slide-off lid on the bottom of the object with a 34-pin connector consisting of two parallel rows of 17 square wire pins. Nothing is installed in this compartment.. There is a label on the bottom of the object with basic instructions for 10 different computer functions: spelling checker, calculator, phone book, appointment book alarm clock, personal file, typing tutor, utilities, word processor, and expense account.. On the right-hand side of the object, there are two square "knock-out" covers labeled Phone and Line; they do not appear ever to have been opened.. On the rear panel there are three connectors: A DB-15-S labeled "Expansion I/O, a 1/8-inch audio-type jack labeled "Cassette," and a 12-volt DC power input jack.. The top of the object has a small version of a QWERTY keyboard and a 3/4 x 3 1/4 inch display panel.. The carrying case is embossed with the work "Laser.". On the bottom of the object, near one side, are a small, unmarked, black slide switch, and an unmarked thumbwheel control.
Manufacturer
Laser Computer, Inc. and/or VTCL
Place Manufactured
China
Identifying Numbers
Model number
pc3
Other number
034056348038
034056348038 manufacturer's barcode label on bottom of computer
Serial number
1007168
Dimensions
1 1/2 x 10 x 7 3/8 in.
Category
Digital computer/portable / luggable
Credit
Gift of Bobby Greenberg