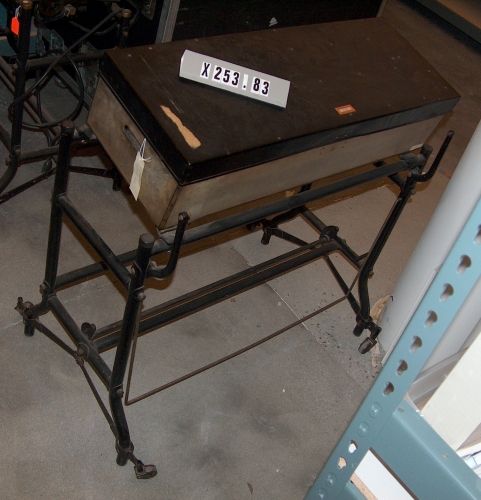 Title
Millionaire calculator
Description
The object consists of a motorized calculator with input keyboard on a separate floor stand.. Dimensions are of the calculator on the floor stand with the lid closed.. The directions for use are on the inside cover.. This motorized version of the Millionaire calculator has an electric motor, leather drive belt and pulleys, and other parts hanging underneath the main case. The main unit is mounted on a floor stand made of metal tubing, with a mechanism to raise and lower four castors. All castors are in place. The calculator may not be solidly fixed to the floor stand; the calculator appears to sit with its four rubber (?) feet in four pockets at the top of the floor stand. There is an orange, white, and black property sticker affixed to the top of the lid, with printing as follows: "University of Illinois, State of Illinois"
Date
1895
Manufacturer
Hans W. Egli Co
Place Manufactured
Switzerland
Identifying Numbers
Other number
281 023
281 023 - on brown DYMO tape adhered to top of lower-rear cross-member of floor stand
Other number
368407
368407 - serial number of motor suspended below the right end of the main unit
Serial number
6417
Dimensions
34 x 33 1/2 x 24 in.
Category
Calculator/electromechanical
Credit
Gift of University of Illinois, Department of Computer Sciences