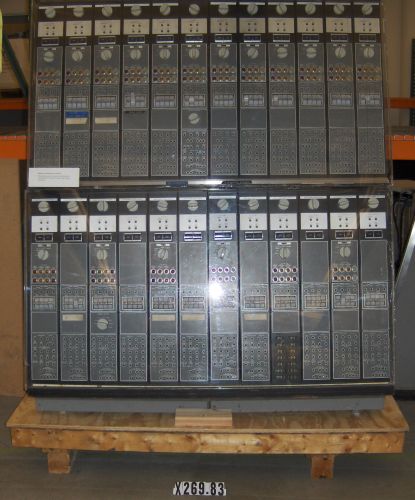 Title
SAGE: One half of Radar Console
Date
1958
Manufacturer
International Business Machines Corporation (IBM)
Place Manufactured
U.S.
Identifying Numbers
| | | |
| --- | --- | --- |
| Other number | C42 CHIBOUGAMAU | In center of front of unit on blue Dynotape |
| Other number | SYRACUSE / Z10 21st NORAD DIV | In upper left of front of unit on blue Dynotape |
Dimensions
overall: 69 in x 57 1/4 in x 32 1/4 in
Description
A loose side panel is wrapped to the side of the object. There is a clear plastic display cover that has been added to the object. There is a label attached to the front which reads "Simplex maintenance console- this maintenance console monitored and controlled all of the Q-7's Input and Output equipment". Alternative label copy: SAGE console, 1958 This console was the user interface to the SAGE (Semi- Automatic Ground Environment) computer system known as the "FSQ-7." Begun in 1952 (and operational six years later), SAGE became the first U.S. continental air defense system, linking dozens of radar stations, weather bureaus, airports, and air force command centers together into a real-time early warning system. It comprised redundant CPUs, modems, "light gun" input, and earned its IBM, its prime contractor, over $1 billion in revenues over the life of the system. Despite it's complement of more than 50,000 vacuum tubes, the FSQ-7 was highly reliable (> 99.97% uptime).
Category
I/O: display: CRT
Credit
Gift of National Museum of Science and Technology - Ottawa