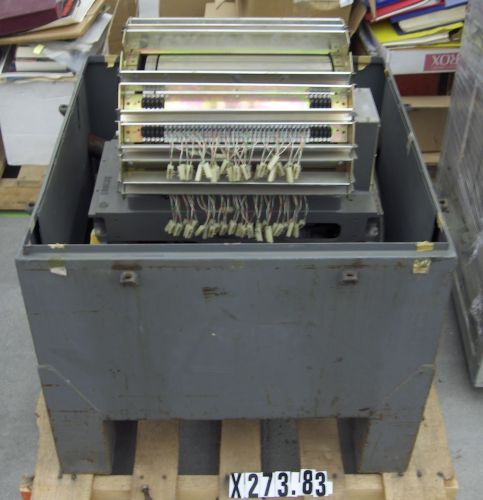 Title
SAGE: Magnetic Drum
Date
1958
Manufacturer
International Business Machines Corporation (IBM)
Place Manufactured
U.S.
Identifying Numbers
| | | |
| --- | --- | --- |
| Other number | 147 | "Container serial" stenciled on bottom and top halves |
| Other number | 237981 | Cast into frame left end of drum. |
| Other number | 3115855 | On paper label taped to one side of top |
| Other number | 3115855 | On paper tag loose inside (bagged) |
| Other number | 789 | "Rotor #" from paper tag |
| Serial number | K2557 | Written on paper tag |
Dimensions
700 x 700 x 1000 mm
Description
Object is found (2008-10-22) and consists of a large, cubical steel box made in two halves. The upper half is secured to the lower by four bolts (of a possible 8). On the upper half is a shipping label addressed to Larson AFB; on the bottom is stenciled "Return to IBM Kingston" and other texts. Removing the top half we find what appears to be a head-per-track drum unit on a heavy metal frame.secured in the lower half. Loose in the bottom of the case is a belt shroud and several loose screws and washers. Also loose in the bottom is a large rubber O-ring, probably intended as a gasket between the upper and lower halves of the case, although not positioned as such because it shows no compression. Loose inside was a paper stock tag bearing the hand-written text "Mag. Drum Ass'y - 3115855 / Rotor #789"; a "Serial Number" K2557, and an "Order or Contract No." AF30 (635) 18890. "Name of Activity, Manufacturer or Using Org" is given as "IBM-Command Control Center"
Category
Memory: drum
Credit
Gift of National Museum of Science and Technology - Ottawa