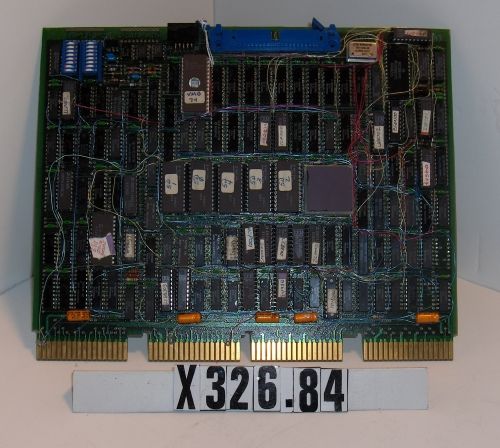 Title
MicroVAX I (original) Data Path (DAP)
Date
1983 (DC)
Manufacturer
Digital Equipment Corporation (DEC)
Place Manufactured
U.S.
Identifying Numbers
| | |
| --- | --- |
| Model number | MicroVAX I |
| Serial number | EXP17-A |
Dimensions
overall: 1/2 in x 10 1/2 in x 8 1/4 in
Description
This module along with the memory controller (MCT) [X325.84] werethe original breadboard modules for the MicroVAX I. The final versions of both modules are the same size- butseveral part changes required a large amount of wire wrap in the breadboard. The large square chip in the middle of the DAP module is a VLSI chip. It contains an ALU- registerfile- barrel shifter- and constant ROM. About 40-000 transistors are required to implement this functionality onthe chip. Together- the MCT and DAP modules implement theMicroVAX architecture in a machine that performs at about 35-40% of a VAX/11-780. The PC board area on a MicroVAX I is about 160 square inches. The VAX/11-780 requires about 4500 square inches of PC board space. David Cutler was responsible for the design.
Category
Component: circuit board / module
Credit
Gift of David N. Cutler