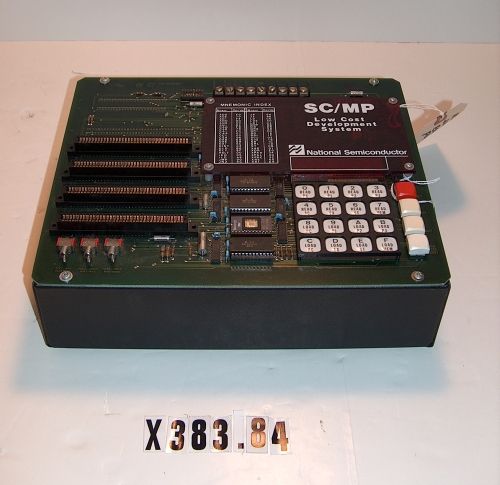 Title
SC/MP Development System Mother Board
Date
ca. 1975
Manufacturer
National Semiconductor Corporation (NSC)
Place Manufactured
U.S.
Identifying Numbers
| | |
| --- | --- |
| Model number | ISP-8P/301N |
| Other number | 980304863-002 REV D Assembly number |
| Other number | 990304966-003 Part number |
| Serial number | 9548 |
Dimensions
3 5/8 x 12 1/4 x 10 in.
Description
The National Semiconductor SC/MP, developed around 1975, is an example of an engineering development system using a microprocessor. Though it is not a personal computer, a large number of enthusiasts built hobby computers adapted from kits like this which were inteded for industrial prototyping. This is the mother board for a development system- a do-it- yourself kit. A student/experimenter/etc. can customize cards to plug into the mother board to make a complete system. The long black connectors on the left are buses to plug cards into. A keyboard is used for simple programming and a small display above the keyboard. The chip with glass window is probably an EPROM. You can burn a program into the EPROM. The glass window is so you can erase the EPROM with ultraviolet light. +5 VDC, -12 VDC suppies tied to tied to ground for static protection. -- DS 3/18/99. Attached to the unit is a tag with directions how to apply power.
Category
Digital computer: development system
Credit
Gift of the National Semiconductor Corporation