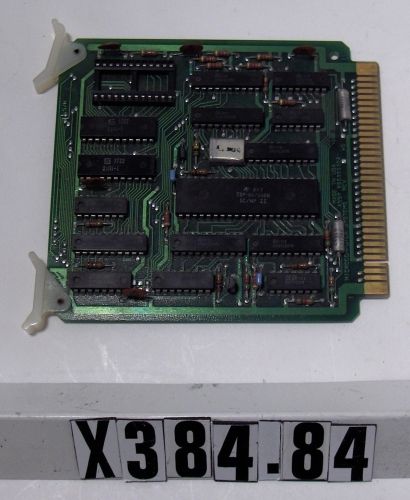 Title
SC/MP CPU circuit board
Date
c. 1975
Manufacturer
National Semiconductor Corporation (NSC)
Place Manufactured
U.S.
Identifying Numbers
| | | |
| --- | --- | --- |
| Other number | 551305302-001 REV A | Etched on bottom |
| Other number | 980305302-001A | Etched on top of circuit board, suffix is stamped |
| Other number | REV W5 | Etched on top of circuit board |
Dimensions
overall: 5/8 in x 5 1/4 in x 4 3/4 in
Description
This is a CPU board that plugs into the SC/MP Development System Mother Board (X383.84). See X383.84 for development information and facts. The National Semiconductor SC/MP, developed around 1975, is an example of an engineering development system using a microprocessor. Though it is not a personal computer, a large number of enthusiasts built hobby computers adapted from kits like this which were inteded for industrial prototyping. This is the mother board for a development system- a do-it- yourself kit. A student- experimenter- etc. can customize cards to plug into the mother board to make a complete system. The long black connectors on the left are buses to plug cards into. A keyboard is used for simple programming and a small display above the keyboard. The chip with glass window is probably an EPROM. You can burn a program into the EPROM. The glass window is so you can erase the EPROM with ultraviolet light. Similar to X385.84 but a later revision. (This is dicernible from later date codes on KS but also from CPU IC being in a plastic package vs. a ceramic package in X385.84.) -- DS

Etched on top of near connectors "MICROCOMPUTER SYSTEMS".
Category
Digital computer: development system
Credit
Gift of the National Semiconductor Corporation