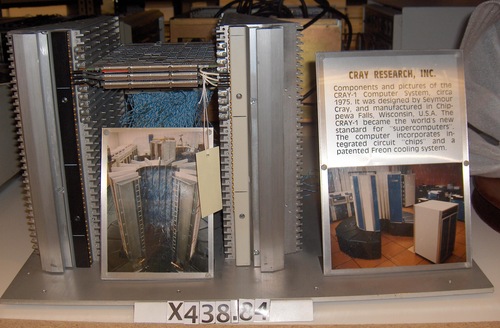 Title
Cray-1 Logic Column cutaway
Date
1975
Manufacturer
Cray Research, Inc. (CRI)
Place Manufactured
U.S.
Identifying Numbers
Deprecated CHM identification number
102656709
Duplicate record now deleted
Model number
Cray-1
Dimensions
overall: 12 in x 23 1/2 in x 17 in
Description
Object is composed of components of the Cray-1, mounted on a metal plate, with two photographs attached. Text above one photograph reads: "Components and pictures of the CRAY-1 circa 1975. It was designed by Seymour Cray, and manufactured in Chippewa Falls, Wisconsin,U.S.A. The CRAY-1 became the world's new standard for "supercomputers". The computer incorporates integrated circuit "chips"and a patented Freon cooling system."
Category
Ephemera: other
Subject
Cray-1; Cray Research, Inc. (CRI); cooling; circuit boards; Freon
Credit
Gift of Cray Research, Inc.