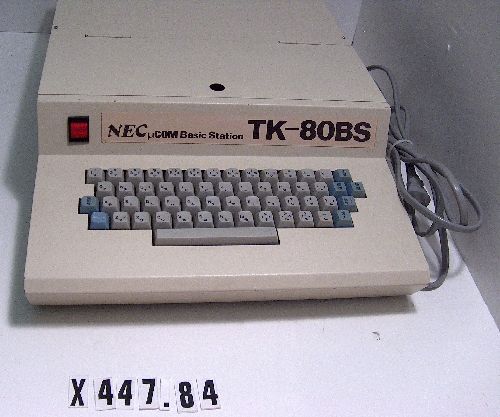 Title
NEC TK-80BS uCOM Basic Station microcomputer
Description
Object is a metal case with keyboard which bears both English & Japanese characters. Inside is a set of three PCBs. The topmost board has a programmer's keypad and appears to be an NEC TK-80 microprocessor training kit. At least one of the other boards is believed to be an NEC TK-80BS expansion board that converted the TK-80 kit into a BASIC machine and added a conventional keyboard. There are a power supply and other components inside the case. There is a power cord coming out of the side of the case.
Date
1977 ca.
Manufacturer
Nippon Electric Company, Ltd. (NEC)
Place Manufactured
Japan
Dimensions
5 x 14 1/2 x 21 1/2 in.
Category
Digital computer/personal computer/desktop
Credit
Gift of the Microsoft Corporation