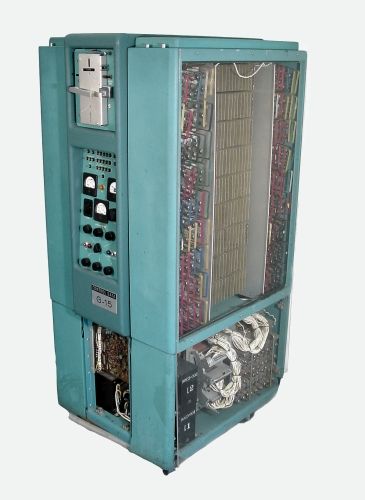 Date
1956 ca.
Manufacturer
Control Data Corporation (CDC); Bendix Corporation
Place Manufactured
Los Angeles, CA, US
Identifying Numbers
| | |
| --- | --- |
| Model number | G-15 |
| Other number | "DIAPER 1" on front of object |
| Serial number | 312 |
Dimensions
overall:
Description
This item comprises 2 (two) pieces: A: G-15 and Spare parts, includes PCB tester For more complete documentation, please refer to BRL Report (Weik, ed.), pp. 66-85.

Sign on left hand side of object (removed 11/09/2010) read:
BENDIX G-15
Bendix Aviation, Computer Division
Word Length: 29-bit single-precision, 54-bit double-precision.
Speed: 275 microseconds single-precison add time, 540 microseconds double-precisoin add time. 260 microseconds multiply time (single-precision).
Instruction Set: Two-address code adopted from Pilot ACE.
Architecture: Serial, binary. 90kHz clock rate.
Technology: 450 vacuum tubes, 3,000 diodes.
Primary Memory: 2,176 words drum memory.
Secondary Memory: 2,500 word searchable paper tape magazine.
Input and Output: Typewriter, photo-electric paper tape reader, magnetic tape.
Development History: Project start 1955, designer Harry Huskey, first delivered 1958.
Number Produced: Over 1,500.
Price: $55,000.
Size: 1,500 lbs, 3kW.
Software: Early ALGOL interpreter.
Achievements: With the LGP-30 and the IBM 650, the G-15 was the first of the desk-sized computers offering small-scale scientific computing. Revolutionized the computer industry with the potential for low-cost distributed processing.
Category
Digital Computer: workstation
Credit
Gift of Daryl Mozier