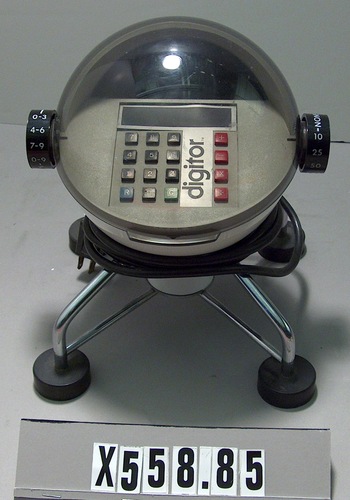 Title
Digitor Learning Arithmetic Module
Description
The Digitor is one of the first uses of a microprocessor in an educational device. It was developed to teach students the four basic arithmetic operations of addition, subtraction, multiplication, and division. The difficulty and length of the problems were set by adjusting the two side knobs. Students answered problems shown on the display panel by entering a number on the keypad. Correct answers were rewarded by a happy face and incorrect ones by a sad face. At the end of the exercise, Digitor displayed the number of problems answered correctly. Over 100,000 Digitors were sold worldwide.
Date
1974
Manufacturer
Centurion Industries, Inc.
Place Manufactured
U.S.
Identifying Numbers
| | |
| --- | --- |
| Model number | Digitor |
| Other number | 3,947,976 patent number |
| Other number | 7001 catalog number |
| Serial number | A37528 |
Dimensions
9 1/2 x 8 x 8 in.
Category
Fixed-application digital computer/other
Credit
Gift of Centurion Industries, Inc.