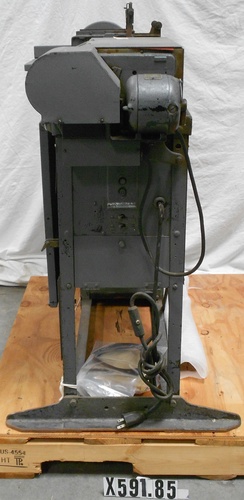 Title
Non-Listing Tabulator
Date
ca. 1937
Manufacturer
International Business Machines Corporation (IBM)
Place Manufactured
U.S.
Identifying Numbers
Model number
X 090
Other number
090-10040
Number found written on the envelope holding the schematics, which have been sent to archives.
Serial number
10040 S F
Dimensions
overall: 40 in x 45.25 x 18.5
Description
The record contains a non-listing tabulator with a card reader at the left side of the machine. Below the card reader is a metal container for chits. The machine had an additional leather pulley and a metal hand, which have been bagged separately. Under the card reader there is a motor that moves the pulley. There are three numeric read-outs. On the far right are motors. On the side with the motors there are dials and two switches labelled, "Indicate No. 1" and "Indicate No. 2." On two of the read-outs there is a red arrow slide for setting the decimal point. At the front there is a hinged panel that swings upward to reveal a plugboard with various wires. On the board there are tags that read, "burden," "hours," and "labor."
Category
I/O: other
Credit
Gift of Mr. and Mr. William Dobratz