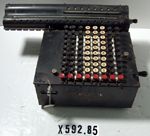 Date
1915 ca.
Manufacturer
Monroe Calculating Machine Company
Place Manufactured
U.S.
Dimensions
6 3/4 x 18 x 13 1/4 in
Description
Keys of varying height. This full-keyboard machine with a movable carriage united many advantages of previous adding and calculating machines. A modified stepped-drum instrument- its earliest model resulted from the collaboration of Jay R. Monroe and Frank S. Baldwin- inventor of the first U.S. pin-wheel machine.
Category
Calculator: mechanical
Subject
Mechanical calculation; Baldwin, Frank S.; Monroe, Jay R.; Moving carriage; Rotary calculator; Bay Area
Credit
Gift of Warren J. Buck and Arthur Milinowski