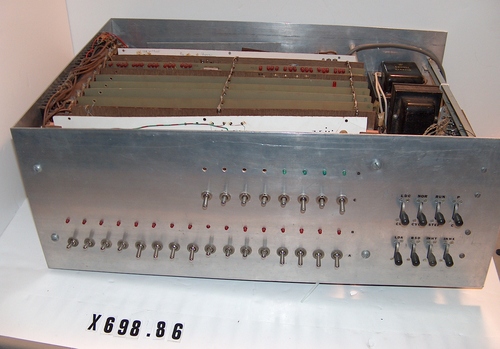 Title
Homebrew 16-bit computer
Date
1974
Manufacturer
Loren Jacobson
Place Manufactured
U.S.
Dimensions
9 x 24 1/2 x 16 1/2 in.
Description
Object is a home-made aluminum frame containing ten large circuit cards plus a power supply and some smaller circuitry. The circuit cards are NOT printed circuit boards with etched land patterns, but simply thin sheets of fiberglass (four) and pressboard or masonite type material (six). One circuit card bears two smaller daughter cards. Holes have been punched in the boards to accept small ICs, and the wiring side of each board carries a weave of hand-soldered individual wires. The front panel has 16 toggle switches with matching LEDs as well as 8 other toggles plus eight multi-contact switches from a PBX. Near the power-supply end are sockets for a couple of vacuum tubes. [3/10/2005 DEC]
. This one-of-a-kind machine contains a 16-bit processor based on small- and medium-scale integration TTL ICs. All I/O was via front panel switches and lights. Jacobson had more time than money, so he used every possible means to keep costs down. For example, very few connectors or sockets were used and all wiring was point-to-point--even between boards. See A/F.
Category
Digital computer: desktop
Credit
Gift of Loren Jacobson