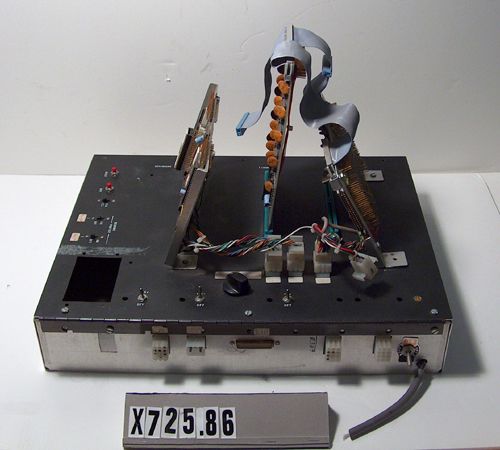 Title
Atari 2600 prototype
Description
During the years 1978-1981 the Atari 2600 Video Computer used more microprocessors than all other applications and products combined - over 20 million 6502's by 1984. As the more sophisticated applications show - it was a real computer - although its 128 bytes of RAM and no keyboard limited its possibilities as a tool. Steve Mayer and RonMilner - at Atari's secret R&D lab in Grass Valley - CA invented the VCS 2600 in late 1975. The first softwarewritten for it by Steve - later with help from Joe Decuir - was assembled on a PDP-11 and down loaded to this homemade development box incorporating a "Jolt" 6502 card and monitor - some 1K RAMs - and interface circuitry. It originally was hooked to the wirewrap breadboard of the "Stella." The first program running on this box was aforerunner of the "Combat" cartridge. Later software development by Atari - Activision - and others made this simple game system a classic around the world. Donation came during the PC Contest (Boston).
Date
1975
Manufacturer
Atari, Inc.
Place Manufactured
U.S.
Identifying Numbers
| | |
| --- | --- |
| Other number | 6850 on interface panel |
Dimensions
13 x 17 x 13 1/4 in.
Category
Digital computer/personal computer/desktop
Subject
Atari; Home game console; Innovation; Business