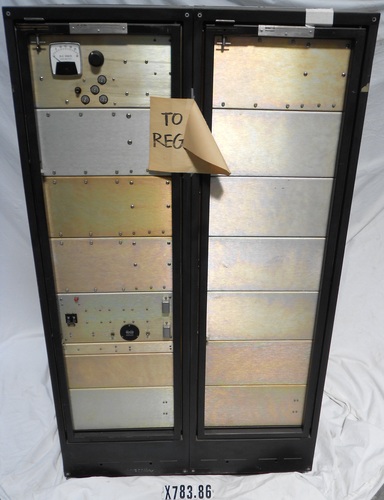 Date
1968
Manufacturer
Digital Equipment Corporation (DEC)
Place Manufactured
Maynard, Mass.
Identifying Numbers
| | | |
| --- | --- | --- |
| Model number | 339 | Embossed on a plastic plate attached to the front of the object |
| Other number | 98-04-3032-IB | Embossed on a Dymo label on the front |
Dimensions
overall: 69 in x 41 in x 32 in
Description
The object is a tall metal frame with room for a cathode ray scope and a number of electronic components. On the right-hand side of the front are a pair of metal doors, which, when opened, reveal various electronic parts. Above the doors are status lights. Sample labels for the lights are "Y POSITION REGISTER, X POSITION REGISTER, and ADDRESS." On the left-hand side of the front is an opening for the scope, which measures 17.75 inches in diameter. The frame is closed on the back and open on both sides. Attached to the left side of the object is a sticker that reads "B Truck #, Floor V-2, Room 103, and Piece 53."
Category
Test equipment
Credit
Gift of University of Rhode Island