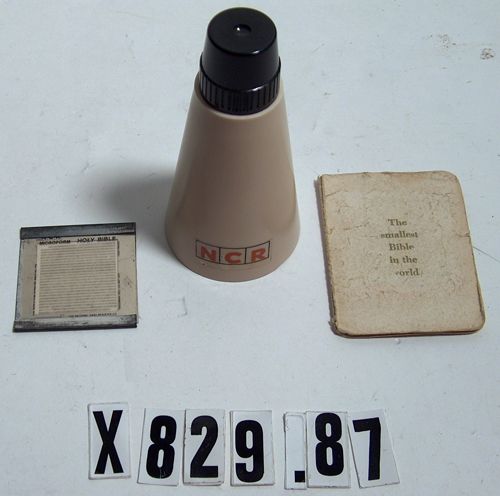 Title
Photochromic Microimage and reader
Manufacturer
National Cash Register (NCR), Inc.
Place Manufactured
U.S.
Dimensions
4 1/2 x 2 1/4 x 2 1/4 in.
Description
Object consists of conical reader a clear card, and a small document. "NCR MICROFORM HOLY BIBLE, THE WORLD PUBLISHING COMPANY BIBLE NO. 715, THE NATIONAL CASH REGISTER COMPANY TRADEMARK REG US PAT OFF 1245 PAGES" is printed on card. "The smallest Bible in the world
"The PCMI (photochromatic micro-image) technique is a developement the research laboratories of the NCR comany." printed on inside of manual.. Measurements are of conical piece only.
Category
Miscellaneous/other