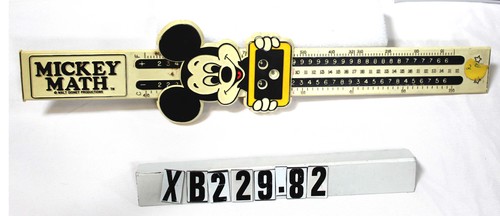 Description
A ruler and rudimentary slide rule capable of division and multiplication (integers only). Reverse side allows for centigrade to Fahrenheit conversion Slider is in shape of Mickey Mouse. Used to teach children their multiplication tables. Circular yellow circle at right end of one side with handwritten text '2.00" and sticky brown smudge on same side between numbers 9 and 10.
Date
undated
Manufacturer
Walt Disney Productions
Place Manufactured
U.S.
Dimensions
3/8 x 14 1/2 x 3 1/8 in.
Category
Ephemera/other
Collection Title
Gwen Bell artifact and book collection
Series Title
Pre-computing artifacts
Credit
Gift of Gwen and C. Gordon Bell