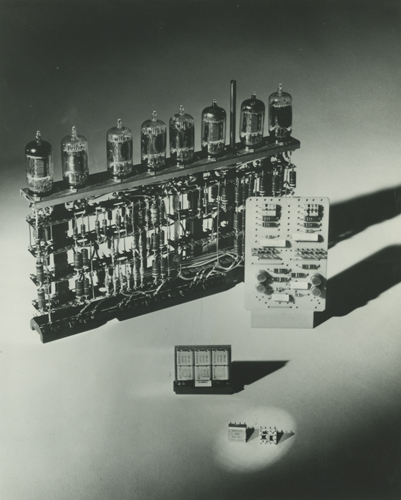 Title
IBM Solid Logic - Electronic vacuum tubes and circuit board
Date
1964 ca.
Identifying Numbers
| | |
| --- | --- |
| Other number | 1270 |
| Other number | I-1 |
| Other number | L-1-1 |
| Other number | V20-9297 |
Dimensions
10 x 8 in.
Format
Photographic print
Description
This is a black and white image of eight electronic vacuum tubes mounted on a device containing transistors and wires. Displayed in front of this vacuum tube device is a circuit board, a smaller device holding six IBM IC chips, and two standalone IBM IC chips. The vacuum tube device resembles the pluggable tube system listed in Accession# 102650351. The image is fairly dark with light coming from the left edge of print. There is also a spotlight on the two standalone IBM IC chips in the foreground. The background is completely white except for teh dark shadows cast by the devices. Stamped on the bottom of the image is "V20-9297". Written in blue ink near the top left corner verso of image is "Vac tube", "Transistor card", and "SLT Module". Also written on verso of image near the center in pencil is "L-1-1", "I-1", and "IBM". "#1270" is also written in pencil but near right side on verso of image. There is a yellow post-it note on verso of image with the writing "IBM" in pencil and "transistor" in black ink.
Category
Identification photograph; Publicity photograph
Subject
Computer industry--History; Computers--History; Electronic data processing--History
Credit
Courtesy of Gwen Bell