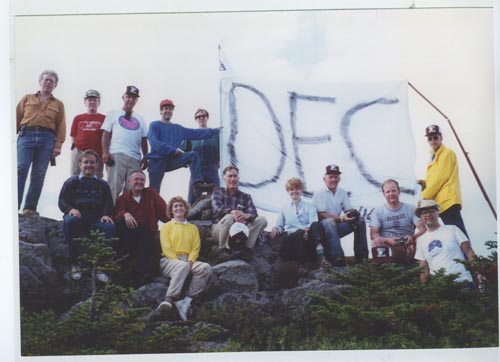 Title
DEC Executives 1991 Woods Meeting
Date
1991 ca.
Dimensions
overall: 8 1/2 in x 12 in
Description
DEC executives celebrate the traditional climb of Bald Mt, ME. !991 "Woods Meeting" at Ken Olsen's camp at Heald Pond. At the summit of Bald Mt., ME 5 miles north of Heald Pond. Refreshments ( non- Alcoholic) were delivered later by Dec helicopter.
Left to right, top row, left of flag Grant Saviers, Dave Stone (d), Bill Demmer, Eli Lipcom, Disk Fishburn.
Bottom row ?, ?,Jim Osterhoff, Willow Shire ,?, Dick Poulsen, ?, Bob Glorioso, George Chamberlain.
Category
Photograph