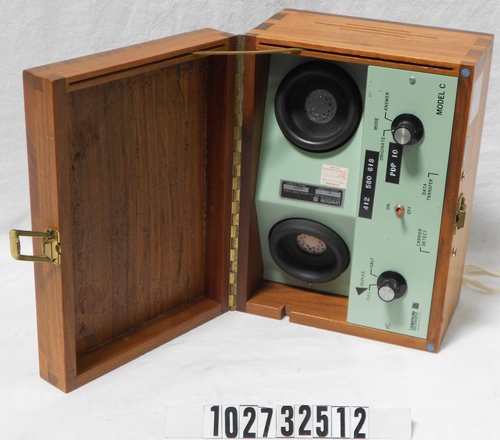 Title
Telephone acoustic coupler
Manufacturer
Livermore Data Systems, Inc.
Place Manufactured
Livermore, Calif.
Dimensions
overall: 6 1/2 in x 11 1/4 in x 8 1/4 in
Description
The object is an acoustic coupler modem built in to a wooden case. There is a carrying handle on the top of the case. The top swings up to open. On the back of the object is a power plug, and RS-232 connector, and a fuse. A sticker on the bottom of the object indicates that it was repaired Aug 16, 1972. The object has two indicator lights (CARRIER DETECT and DATA TRANSFER), one red and one yellow. A sticker on the front has a map of Nevada and is labeled NADS and ELECTRONICS FIELD TEST SYSTEMS. Another sticker reads USAEC UCLLL, which probably stands for "U.S. Atomic Energy Commission, University of California, Lawrence Livermore Labs." A sticker inside the case indicates that calibration and service are due 7-23-73.
Category
modem