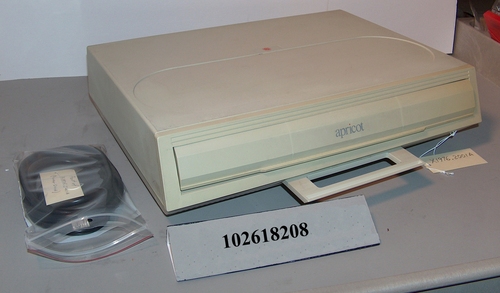 Title
ACT Apricot personal computer system unit (CPU box)
Date
1983 ca.
Manufacturer
Advanced Computer Techniques Corporation (ACT)
Place Manufactured
U.K.
Identifying Numbers
| | |
| --- | --- |
| Model number | 2 D/S 115 256K |
| Serial number | MF037599 |
Dimensions
4 1/2 x 16 1/2 x 12 1/4 in.
Description
The object consists of the system unit (CPU box), a detachable power cord, the manufacturer's original printed box, a large plastic bag for the system box, and original foam-block packing inserts.. The dimensions are for the system unit. The dimensions of the outer box are approximately 11 x 20 x 24 in. The original keyboard (X1976.2001C) and mouse (X1976.2001D) that were shipped with this system also are stored in the same box as the system unit, as shipped by the manufacturer.. The front panel of the object has a pull-out carrying handle, two 3 1/2-inch floppy-disk drives, and is labeled "apricot.". Over the front panel is a retractable cover for the disk drives. It rotates approximately 90 degrees around hidden pivots at the sides of the case and retracts into the main case when it is open.. The bottom of the object has two cable-management hooks, one at each of the rear corners, and a hook and latch system around a shallow depression that occupies much of the bottom of the object.. The back panel of the object has five connectors. "Reading" from left to right, they are: 1) DB-9-S labeled "keyboard," 2) a "Centronics-type" socket labeled "printer," 3) a DB-25-S labeled "RS-232," 4) a DB-9-P labeled "monitor," and 5) an IEC-320-type power inlet. A red rocker power switch and a fuseholder are near the power inlet. In the upper left-hand corner are two cover plates labeled "EXP 1" and EXP 2."
The shipping label on the box reads: Lotus Computers, Lotus Century Computers, (unreadable number) South Mayfair Ave, Daly City, CA 96015.
Category
Digital computer/portable / luggable